About Us
Central Environmental Services Limited is one of the country's leading companies for asbestos removal and abatement services in the delivery of a range of asbestos projects throughout the UK.
Since 1998, we have continually surpassed customer expectations in the delivery of contracts safely and within timescale and budgets, whilst ensuring the quality of our industry leading services. We provide services 24 hours a day, 7 days a week and 365 days a year, including 1-hour emergency response for contracted clients.
Our workforce are all directly employed and our management team are at the top of the industry. Our highly trained teams provide asbestos abatement work across a range of both public and private sectors, including:
Education
Insurance
Commercial
Local Authority Public Buildings
Private Domestic
Social Housing
Refurbishment
Defence
Utilities
Demolition
Transport
Rail
Air side
Museums
Stately Homes and Listed Buildings
Places of Worship
Prisons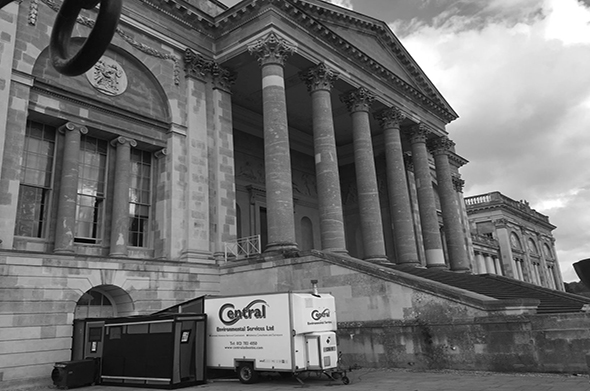 Licence & Insurances
We hold a full 3-year asbestos Licence issued and regulated by the Health and Safety Executive.
We are insured and underwritten by the specialist asbestos insurer, Miles Smith, including the following coverage:
Employer's Liability (£20,000,000 coverage)
Public / Products Liability (£10,000,000 coverage)
Pollution Liability (£10,000,000 coverage)
Contract Works
Professional Indemnity
Health, Safety, Wellbeing, Environment & Quality
In regard to health, safety, wellbeing and the environment, we are at the top of a highly legislated sector. Our internal audit teams, in-house training and our Work safe scheme mean we maintain exceptional standards in everything we do.
This is demonstrated by our continuing certification to
ISO9001
ISO14001
ISO45001
We hold a full set of accreditations, insurances and other permits including a full 3-year HSE asbestos Licence and Environment Agency waste carrier Licence.
Plant, Transport & Equipment
To enable all jobs to be delivered in the safest manner and within demanding deadlines, our work crews have the latest plant, equipment and transport available for use.
In line with our environmental commitments, we have a full fleet of new fully sign written and branded vans and vehicles including clean-air zone compliant commercial vehicles to supplement the electric vehicles in our fleet.
Our decontamination units are all new units and our large fleet includes a number of welfare units which incorporate fully CDM compliant welfare facilities in a separate part of the unit to the asbestos decontamination procedures.
Our plant is selected from the best available to the industry ensuring all plant has the lowest vibration, noise and emission levels available and all plant is regularly maintained to manufacturer's and statutory requirements by our in-house plant technicians and independent specialists.
Technology
Our on-site teams have access to the latest technology comprising of 5G enabled iPads and apps to assist with on-site management, auditing, training, monitoring and management.
Information is exchanged between office and on-site teams in real time, ensuring that regardless of the location of the works, the project is delivered safely and in compliance with our industry leading standards.